It can be scary to keep informed of all the Halloween events in Oklahoma, but Uncovering Oklahoma is here to make it easy as teenagers getting killed off early on in a scary movie. This guide features all of the terrifying and family friendly Halloween attractions throughout the entire state of Oklahoma, including parties, escape the room games, Day of the Dead Festivals, ghost tours, and zombie runs!
I'm proud to make this the most comprehensive Halloween guide around! If there is something missing, changed, wrong, or new, contact me, especially if your a haunted attraction owner who wants to be on my weekly show! I won't bite! Listings may change too as of right now it's early in the season and many places have yet to announce their 2016 plans.
For updates, subscribe to our free email newsletter. It's sent out about once a week with updates on events, special offers, and interviews about creative people and places in Oklahoma.

SCARE WARNING: For family fun, read the Mazes and Pumpkin Patches section. There are some Haunted Houses with a kid friendly side attraction. For real ghosts, scroll down to the Ghost Tours section.
Listings in our 2015 Halloween guide are sorted in alphabetical order, with shows sorted by start date, and cover the entire state of Oklahoma. For more information on an attraction, click on the title to be linked to their official web site.
WHERE: 51853 W. 101st Street S. in Drumright, Oklahoma 74030
WHEN: Unknown? Not Happening in 2015
Evil Dead: The Musical is the only musical in the world with a splatter zone. The hilarious live stage show takes all the elements of the cult classic horror films, Evil Dead 1, Evil Dead 2, and Army of Darkness then combines them to make one of the craziest theatrical experiences of all time.
Five college students go to an abandoned cabin in the woods, and accidentally unleash an evil force that turns them all into demons. It's all up to Ash (a housewares employee, turned demon killing hero), and his trusty chainsaw to save the day. Blood flies. Limbs are dismembered. Demons are telling bad jokes and all to music.
WHERE: Reduxion Theatre in Oklahoma City
WHEN: Oct 8 – 31, 2015
Based upon the wildly popular independent stage hit DC Dead which premiered Halloween 2014 in Washington DC, this "immersive Zombie Survival experience," shambles into Oklahoma City this October. Adapted especially for Reduxion Theatre by creator Rex Daugherty, OKC Dead will make your heart race and your arm take aim as you escape zombies in real time, solve puzzles with your team and race to find the cure and save the city. A chose-your-own-adventure style play, the boundaries of live theatre are pushed as audience members become the most important players: living the play rather than watching it! Part haunted house, part immersion theatre, and part zombie hunt (or zombie transition for those unlucky victims), this one-of-a-kind experience is sure to thrill like nothing else this Halloween season.
Be sure to read Uncovering Oklahoma's Q&A about OKC Dead for more information.
WHERE: OU Fred Jones Center
540 Parrington Oval, Suite 122 in Norman OK 73019
WHEN: Oct. 30-Nov. 7, 2015
WHERE: Automobile Alley in Oklahoma City
WHEN: Saturday, October 31, 2015 – 7:00PM
The Air Comfort Solutions Halloween Parade, "A Celebration of the Arts & Creativity," will take place at 7 p.m. Oct. 31 on Automobile Alley with floats, marching bands, unique automobiles, inflatables and walking groups. Event organizers have added pre-events for the kids and a costume party for adults following the parade. The parade and all related events will all take place on Automobile Alley.
The parade will step off North Broadway Avenue beginning at NW 13Street, ending on NW 4 Street. Some of the floats will return to Auto Alley as static displays for the costume party/Zombie Ball.
The parade will have a more family friendly feel this year with children invited to participate in the parade. Candy will be handed out by parade participants as they make their way down Automobile Alley.
The "Zombie Ball" costume party will take place in Auto Alley immediately following the parade. The post-parade events will include bands, static displays, entertainment, food, and beverages.
Departs from Exchange Landing
October 8, 15, 21, 22, 28, 29, 2016 | 8:00 pm | $35/adult
Tired of the same old Halloween Parties? Come join Oklahoma River Cruises on the river for the most fun you've had on the water with
Haunt the River
! Cocktails, dancing, appetizers, and spooky tunes on board. Cash bar available on board. Departs at 8 p.m. from Regatta Landing 701 S. Lincoln Fridays and Saturdays in October. Space is limited and reservations are required. Boarding begins 7:45 p.m. Only $35 per person.
WHERE: Downtown Guthrie
WHEN: Throughout October
Dead Guy Daze is an array of events celebrating Halloween and fall throughout the month of October in Guthrie. Events include Art & GhostWalks, Bluegrass Festival, Guthrie Haunts haunted house, Evil Dead stage production, Paracon, Downtown Pub Crawl & Block Party.
WHERE: Oklahoma City's Bricktown District
WHEN: Tuesday, October 27, 2015 at 4:00pm – 7:00pm
The Bricktown Association will host the second annual Brick or Treat candy hunt for kids in costume on Tuesday, October 27, 2015 from 4:00 p.m. to 7:00 p.m. at various businesses throughout the district in downtown Oklahoma City.
Parents are invited to bring their children to Bricktown and go trick-or-treating at participating businesses. There will be a tent set up at Reno and Mickey Mantle on the plaza at Chickasaw Bricktown Ballpark where attendees can pick up a map. There will also be a free pumpkin painting station, mascots from local teams, and lots of great costumes!
This event is free and open to the public, and trick-or-treaters must be under the age of 14 and be in costume to receive free gifts or candy.
Stick around after 7:00 p.m. for a FREE showing of the Halloween classic Hocus Pocus at the Chickasaw Bricktown Ballpark. The movie starts at 7:30 p.m. you can enter at the Waren Spahn entrance.
WHERE: 1 N Broadway Ave, Oklahoma City, OK
Boasting sold-out shows across the U.S., The Dinner Detective, the nation's largest interactive murder mystery dinner show made it's debut in Oklahoma City in early June last year. This thrilling and hilarious addition to the downtown entertainment scene is offering two Halloween shows where guests can treat themselves to a four-course meal, interactive dinner show, and a unique night of Halloween fun on Saturday October 31, 2015. The Dinner Detective performs year-round. Read more about the show from my experience last year.
WHERE: Lions Park in Blanchard, Oklahoma 73010
WHEN: Friday, October 23, 2015 7:30-9:30pm
A new twist to finding balance with a free Glow in the Dark Yoga session. Unlike a typical class, practicing in near darkness makes you more cognizant of your surroundings—your brain relies on heightened awareness from senses other than vision to process sensory information in order to stay balanced. A family friendly event with face-painting and more fun activities such as an acro yogi performance. It's all free with donations accepted.
WHERE: 230 East First Street, Downtown Tulsa
WHEN: Saturday, Oct. 31, 2015
Spider Ball will set the atmosphere with large theatrical props, background themes, decorated rooms and a grand entryway. Attendees will enjoy getting photos taken with their friends at the "Goulish" press banner, hop in the photobooth for a quick snap, enjoy haunted visuals from stage flat screens and at the stroke of midnight 1,000 balloons will be dropped between each club to commence the party! For more details visit tulsaspiderball.com
WHERE: Plaza District
1726 NW 16th St, Oklahoma City, Oklahoma 73106
WHEN: Sunday, November 1 at 1:00pm – 7:00pm
Join the Plaza District for their 2nd annual festival celebrating Day of the Dead (Dia de los Muertos). The event is sponsored by local businesses folk.life, Dig It, and Bomb Shelter. At this year's event they will have local artists, food, music, crafts and games for the kids and a La Catrina parade. For the parade they are putting a call out to the public to get as many folks dressed as La Calavera Catrinas and Catrins as possible. (The world record for the most in one place is 509 by Mexico City.) In addition many of the Plaza District businesses will play host to artist created ofrendas, District House will be hosting movies and a public ofrenda (feel free to bring a photo of someone you have lost that you wish to honor). Big Truck Tacos will be here serving delicious Mexican Food, low rider cars from GoodTimes Car Club, and Kasum Contemporary Fine Art will also be hosting an altar (ofrenda) and sponsoring our sidwalk chalk art!
WHERE: Lloyd Noble Center
2900 Jenkins Ave, Norman, Oklahoma 73019
WHEN: Sunday, November 1 at 4:00pm – 10:30pm
A centuries-old Latin American holiday that celebrates the lives of departed family and friends will have a markedly 2015 flavor when University of Oklahoma Student Life and the OU Hispanic American Student Association host their version of Day of the Dead – or Dia de los Muertos – from 4 to 10:30 p.m. Nov. 1 at the Lloyd Noble Center, 2900 S. Jenkins Avenue.
A performance by Grammy Award nominee El Dasa, one of Mexico's hottest pop stars, will highlight the festival.
Dia de los Muertos traditions include remembrance altars, where deceased loved ones are honored with sugar skulls, marigolds and their favorite foods and beverages. OU's event also will incorporate live music, folkloric dances, salsa performances and lessons, sugar skull decorating, face painting, carnival rides, a llama petting zoo, and food trucks.
"Day of the Dead is celebrated in Mexico, Guatemala and Ecuador, with numerous variations observed in other countries, including Brazil, Haiti and Bolivia. It's like a combination of America's Memorial Day and Halloween," said OU Student Life assistant director Crystal Garcia. "Our event promotes Latino culture and encourages Latino students to share a part of their heritage. We want to create unity across campus and beyond regardless of race or ethnicity and teach guests something new about Hispanic heritage."
WHERE: Enid
The Jantz Family have opened their hearts and land for the enjoyment of all ages with their over 300,000 square foot living field maze. Six colored flags, an observation bridge and four exits are there to help you. For extra fun, navigate the mazes on Saturday night with a flashlight! Feel a little overwhelmed by the size of that maze? They have plenty of things to do such as a petting zoo, dino dig, hay bale maze for the youngsters, a pumpkin patch, and a concession stand. Try to find your way through a 300,000 sq. ft. living Field Maze. For high adventure, try the six acre, "Jungle Maze." No flags or maps to help you through this one! For the brave of heart, an extra fee will allow you to zipline across the largest field of maze.
WHERE: 39232 231st Street South in Porter
WHEN: October Weekends: Saturdays 10 a.m. – 5 p.m. Sundays 1 p.m. – 4 p.m. Thur & Fri of Fall Break 10 a.m. to 5 p.m.
Everyone boards the wagon for a hayride out to the pumpkin patch, where you and yours can take as long as you want to find the perfect pumpkins! Livesay Orchards has pumpkins of all sizes, shapes and colors. They also carry a great assortment of fall decorations and a Pumpkin Playland, with all sorts of things to see and do.
WHERE:
14400 South Western in Oklahoma City
WHEN:
See Web Site
Visiting the Orr Family Farm in the fall is like no other experience. The sweet smell of cut hay, the brilliant orange of all the pumpkins in our pumpkin patch and the ever-sweet smell of kettle corn flowing through the Farm makes fall a very special time. Experience Orr's sprawling country atmosphere as you begin your adventure through this year's corn maze. You choose the way as you discover games and clues. Maize-o-Vision secret decoders help you navigate the multi-acre puzzle.
WHERE: Myriad Botanical Gardens
301 W Reno Ave, Oklahoma City, Oklahoma 73102
WHEN: October 9 – October 25
Pumpkinville transforms the Myriad Botanical Gardens Children's Garden into a pumpkin wonderland with 11,000 pumpkins, hundreds of brightly colored mums, corn stalks and creative, hand-made décor to celebrate the fall.
Be sure to visit on October 16th for the Spooky Pooch Parade.
WHERE: 614 Reding Road in Chickasha
WHEN: See Web Site
Fun for the whole family with a 35 acre walk through maze, 3 Regualr mazes, 2 Haunted Mazes, hay rides, cowtrain rides, corn and pumpkin cannons, live music, bon fires, dusk races, petting farm, and a play area with a large sandpile.
WHERE: 1002 Old 66 Rd in Hydro
WHEN: See Web Site
P Bar Farms offers plenty of Fall Fun for the entire family, including a hand cut Corn Maze, Pumpkin Patch, Train Rides, Farm Animals, Playground, Laser Tag, Karaoke and a new addition to the farm, Miniature Golf! During October P Bar Farms even get into the Halloween fun with a haunted Corn Maze and Laser Tag Barn after dark.
WHERE: 98120 N. 3745 Road in Mason
WHEN: See Web Site
This year Rustic Acres will have a new game for the maze called Maze Text. Maze Text is an interactive cornmaze texting game. This game allows you to receive hints through text messages and website clues. Lots of fun questions ranging from Fun Facts, Bible Trivia, Boy/Scouts and more to be fun and educational as well.
WHERE: 1580 NW Highway 37 Newcastle, OK and 4335 West Highway 9 West Norman, OK
Visit TB Farms for their tractor drawn hayrides, petting zoo, massive hay maze, corn maze, tricycle race track, duck pond, pony rides, and pick your own pumpkin patch.
WHERE: 32506 E. 61st St. in Broken Arrow
WHEN: See Web Site
Take part in the haunted maze, paintball range, campfires, cow train, and more at Tulsa MAiZE.
WHERE: 541 S. University Blvd. Norman, OK 73069
Cracked Norman is Norman's first and only live action puzzle room! They offer a fun and unique entertainment experience designed for small groups from 2-6 people. Within each of their themed rooms, groups will have just 60 minutes to work together to search for clues, solve the scenario, and discover all of the keys and combinations needed to complete the challenge before time runs out. Will your group be able to crack the code in time? Or will you crack under pressure?
WHERE: 912 NW 23rd Street, Oklahoma City, OK 73106
Solves puzzles and challenges while unlocking secrets and surprises in a live escape room with Escape Games OKC! Form your team with friends, family, or co-workers.
WHERE: 4960 S 83rd E Ave, Tulsa, OK 74145
Prepare to be locked in a room with up to 11 other people and a Zombie that is chained to the wall with I Can Get Out in Tulsa! Hidden in the room is a key that will unlock the door to your freedom. To find the key you must locate numerous clues and solve riddles. Every five minutes the hungry Zombie's chain will be released another foot. Within an hour, the Zombie will be able to reach you. You have 60 minutes to the find clues, solve the puzzles, unlock the door and escape the room without getting eaten! Are you smarter than a Zombie? Find out!
WHERE: 2909 S. Sheridan Rd., Tulsa OK, 74129
The Key Quest Escape Room Tulsa is a live action escape room, presented by Laser Quest. Players must use observation and critical thinking skills to find clues, solve a series of puzzles, and ultimately, discover the "key" to escape the room within a set time limit.
WHERE: 912 NW 23rd Street, Oklahoma City, OK 73106
The Escape OKC is Oklahoma's first ever live action escape challenge. You and up to five of your friends have an hour to work together and solve a series of puzzles, riddles, and assorted challenges to put together the clues to escape one of our unique rooms. The Escape OKC provides a fantastic teambuilding experience. You will need all 60 minutes, and help from everyone in your group if you hope to escape in time.
The Escape OKC is open year-round on Wednesday, Thursdays, Fridays, Saturdays, and Sundays. For the Halloween season, there will be a special Halloween themed room. Reservations are required and can be made here.
WHERE: 1448 S. Carson Ave, Tulsa OK 74119
You and up to five of your friends have an hour to work together and solve a series of puzzles, riddles, and assorted challenges to put together the clues to escape one of our unique rooms at The Escape Tulsa.
WHERE: 4444 East 66th ST STE 200, Tulsa, OK 74136
The SafeHouse Tulsa is a new and exciting real life escape game. It is designed to be played by groups of 2-8 people. You have exactly 1 hour to test your wits and problem solve a series of puzzles in a single room. The goal is to escape within the time limit; but beware, do not try to go at it alone. You'll have to use the help of others if you want to escape the SafeHouse.
WHERE: 111 Harrison Ave Suite 102, Oklahoma City, OK 73104
Trapped is a new, fun form of entertainment sweeping the nation. It is a real-life escape game here in Oklahoma City. This game is designed for small groups of 2-10 people. Your goal is to work as a team to solve the clues and puzzles located in the room to discover the final four-digit code that will allow you to unlock the door and no longer be trapped. Book today to test your skills and see if you can get out within the hour.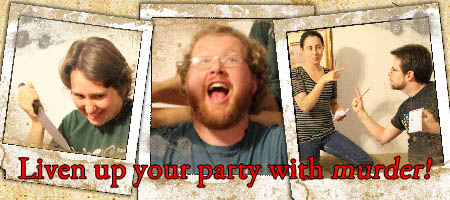 WHERE: 6539 E. 71st Street in Tulsa
WHEN: See Calendar for 2014 Season
With over 30,000 square feet of terrifying entertainment, The 13th Ward submerges you into a chaotic dimension, where savage patients run uncontrolled, and illusions are reality. It is here, under the guise of a rehabilitation facility, that Dr. Thaddeus Munck once subjected some of the world's most disturbed criminals to illegal, mind-altering experiments and horrendous tortures. Now, these monsters of Dr. Munck's creation wander in anguish, seeking their revenge for the torments they will forever suffer.
Make no mistake; The 13th Ward is not for the faint of heart. Enter Dr. Munck's domain, cross the threshold into pandemonium, and lose your psyche to its own hallucinations. Surrounded by insanity, at The 13th Ward our goal is to make your blood scream, to leave your soul questioning existence and to bring nightmares to life.
WHERE: Moore's Flying M Ranch: 20707 E 540 Rd in Inola
WHEN: Friday's & Saturday's 7:30pm – 11pm
October 17th & 18th, 24th & 25th
The Hayride: Ride along with your friends on a real tractor pulled hayride for the 1 mile journey through the Flying M's most haunted woods & fields of our 700 acre ranch. Experience for yourself why the ranch hands & owners never…ever go out after dark. The beautiful, breathtaking rolling hills of the northeast Oklahoma countryside give a new definition of breathtaking after dark!
Field of Fright Path: Dare to walk the path that leads you through the field of fright. Every step you take will draw you deeper into the woods where you'll swear you can feel the breath of every creature on the back of your neck. Keep your loved ones and friends, and possibly complete strangers, close by and pay no mind to the screams ahead.
WHERE: 304 W. Cherokee in Nowata
WHEN: Fridays and Saturdays from 7pm to 11pm and Sundays from 6pm to 10pm in October and open on Oct. 31 from 6pm to 12pm
The Asylum is a place that the simple peace-loving townsfolk of Nowata, Oklahoma don't particularly like to discuss at all. Especially with the likes of strangers. People come and go through this small town, and sometimes they'll hear just a faint whisper about, "that wretched place" and they begin to dig in affairs that are not of their own. It is these affairs that envelope the minds of the individuals, warily holding on to their very sanity. Themed after an early 1940's Sanitarium, The Asylum is based on the dark history of the first sanitariums before there were rules and restrictions to control what happened inside.
WHERE: 14805 W. Industrial Road in Guthrie, OK 73044
WHEN: 9/23, 9/24, 9/30, 10/1, 10/7, 10/8, 10/14, 10/15, 10/21, 10/22, 10/28, 10/29, 11/4 and 11/5 in 2016
It's the Night of the Living Dead. Will you survive until dawn?
Take a ride through our haunted paintball park. Shoot as many of the approaching zombies as you can with glow-in-the-dark paintballs from the safety of our Battle Wagon. Zombies are unarmed and can't shoot back. Family friendly event and fun for all ages. No prior paintball experience or equipment is required and participants do not need to wear masks or other protective gear. Concessions and bathrooms are available inside our climate controlled clubhouse.
The Zombie War has begun and YOU have just been drafted. Kill the zombies and save the world! $20 per person per ride and admittance includes 200 paintballs. Buy additional paintballs during the ride for extra firepower. Ride the battle wagon again for half price.
WHERE: Chickasaw Bricktown Ballpark, 2 S. Mickey Mantle Dr. in Oklahoma City
WHEN: Wednesday, Oct. 21 through Saturday, Oct. 31. 7 p.m. to 11 p.m. Sunday through Thursday, and 7 p.m. to midnight on Friday and Saturday nights.
"We've been haunting Bricktown for the past 30 years and plan to keep the tradition alive in the years to come. I love the creative process and the reaction it gets from the people who attend," Brewer Entertainment Owner Brent Brewer said. "We also plan to elevate our game this year by selecting the best actors and tapping into our city's growing number of film industry professionals to help make the environment as close to horror movie quality as possible."
The first Bricktown Haunted Warehouse was held in 1984 in the former Hunzicker Bros. Electric Building. The event is credited for introducing the public to Bricktown, Oklahoma City's largest entertainment district that originated in 1898 as a wholesale district. The event has attracted as many 30,000 visitors to the district in previous years.
This year's haunted house will be constructed beneath the stands on the north concourse of the ballpark. All ages welcome, but not recommended for anyone under 10.
Tickets are $15 for general admission, or attendees can bypass the line with a $25 Speed Pass. Tickets can be purchased at the door or online at www.BricktownHaunt.com. Group rates are available.
WHERE: Cimarron Rd in Mustang
WHEN: Oct. 19-20, 26-27, 31 at 6:30pm
Haunted Trail on 20 acres just outside of Mustang. This is meant to be scary so keep that in mind when bringing children. They will allow one flashlight per group of 6-10 on the walk.
WHERE: 20100 N.E. 178th Street in Luther
WHEN: Dates for 2015 To Be Announced
Prepare to scream as you walk about ¾ of a mile on a spine-tingling winding trail through the haunted woods. The 110-acre woods are transformed into the scariest Haunted Trail in the area. If you are looking for a new and out of the ordinary way to get your heart pumping and adrenaline rushing this October, Dead Woods Haunted Forest is the place for you. The trail will not open until there is total darkness.
WHERE: 9660 State Hwy 19, Ada, OK 74820
WHEN: Every Friday and Saturday in October from 8pm-11pm
Hosted by the Vanoss PTO, the old Pickett School has been turned into a haunted house. The staff says it's not your typical School PTO fundraiser haunted house. This haunt has had hours spent prepping to make the you feel the fear of your life. If you're an adrenaline junky or just want to get your scare on. The walk through time this year has been extended from a short 4 minutes to around 16 minutes of pure horror.
WHERE: In Frontier City Theme Park at 11501 N I-35 Service Road in Oklahoma City, OK 73102
WHEN: Fridays, Saturdays, and Sundays October 3 to November 2, 2014
Experience Thrills and Chills as Frontier City lets all the ghouls out for their annual FrightFest celebration. For the brave at heart, stop by the House of Screams. This inferno themed haunted house is guaranteed to scare you from one end to another! Plus, you get to check out the various rides Frontier City has to offer.
WHERE: 4524 Riverside Circle, Guthrie, OK 73044
WHEN: Thursdays, Fridays, Saturdays in October 2014
Guthrie residents remember it as the old Harvey's Steakhouse building Highway 77, 2 blocks north of Cimarron Bridge, but now it's a prime destination for Halloween holiday horror. The haunted house opens each night at 7 p.m. to Midnight.
WHERE: 3400 Fern Mountain Road in Mukogee, Oklahoma 74401
WHEN: Fridays and Saturdays, October 3 – November 1, 2014 6:00p.m. to 10:00p.m.
You'll find thrills for the entire family inside and outside the Haunted Castle Festival. From the sinister, fog-shrouded forest to the carnival atmosphere of Halloween Land you'll find performances and activities for all ages. Start in the Halloween Village for hot and cold drinks, food, bobbing for apples, fortune tellers, ghost stories, and more before heading off into one of the attractions.
WHERE: 614 Reding Road in Chickasha, OK 73018
WHEN: Friday and Saturday evenings in October from dusk until 10PM
Unconfirmed Closing?
The Harvest of Fear is a 25 minute walk through maize where at each step you will wonder if you will get out alive. Admission is $10.00 per person.
WHERE: 8314 E. 71st St. in Tulsa, OK 74133
WHEN: Sept. 26 – Nov. 1, 2014
The Hex House is an extreme haunted attraction (not intended for children) in Tulsa. The Hex House is an intense multi-element, walk-through haunted attraction themed around a dark chapter in Tulsa's haunted past. You won't find any Freddy's, Jason's, or movie scenes in The Hex House (nor will you find any cheesy animatronics or goofy props). What you will find is that you've been fully submerged in an altered reality that is much darker and less predictable than anything you've seen in the movies. As you make your way through the flickering hallways and eerie rooms of The Hex House (assuming you don't sprint out prematurely), you'll descend from mere creepiness into a full-on, intense nightmare that you won't soon forget. The goal of The Hex House isn't to entertain you, it's to completely remove you from your comfort zone and make sure you know what sheer terror feels like…. and if we don't get you this time… rest assured that next time, we will…
WHERE: 3501 N.E. 10th in Oklahoma City
WHEN: See Site
There is an old historic part of town where since statehood, bad things have happend to a lot of good people (or so the legend goes). Starting Thursday October 1st, The KATT brings you OKC's first REAL haunted forest. It is on NE 10TH St. on the East Side I-35. Less that 5 minutes east of Bricktown and easy access from anywhere in town. The Katt's Haunted Forest will also be ground zero for the "Hallo Wicked Tour" featuring P.O.D. and I.C.P.
WHERE: 1109 N. Delaware, Dewey, OK at the Washington County Fairgrounds
WHEN: October 3, 4, 10, 11, 17, 18, 24, 25, 30, 31 and November 1, 2014
The "Regiment" of the dead is coming. Do you have what it takes to survive or will you become one of the enlisted? This will be an entirely new themed event and will have a lot of new scares in store.
Come see this year's additions and prepare yourself for a "Frightfully" good time.
WHERE:
900 N. Portland, Newcastle, Oklahoma 73065
WHEN:
Oct Weekends from 8pm to 12pm
You may have seen the zombie containment unit around the Oklahoma City metro area and thought to yourself, where did they contain those zombies? Look no further the Newcastle Nightmare!
WHERE: 25803 North County Road 3250 in Wynnewood
WHEN: Oct 24-Oct 31, 2014
One of the funnest haunted zoos in the country the park will be set for visitors to tour the haunted park starting October 24th through October 31st from 7pm to 10pm.
All proceeds from the haunted park will go to help care for unwanted exotic animals housed at the park located in Wynnewood Oklahoma. Don't miss the fun.
WHERE: 38368 S County Rd 195 in Woodward 73801
WHEN: See Site
Nightmare in the Country in 2014 has just experienced its largest expansion ever. Now two haunts in one location. Double the scares and twice as horrendous than before with Unearthed and Puzzledust's Curse–two complete haunted attractions!
Unearthed is an adventure in terror that begins in The Haunted Barn with a new horrific edge! Then your expedition continues into the underground where the Spencer & Foxworth Archeological Expeditions Corp. has just broken through a secret passage in Misers Mine. A vast ancient underworld awaits where history's spirits have never been so terrifyingly real. You are now in the Temple of Anubis as it unleashes its shocking primeval past .
Puzzledust's Curse is their second complete attraction. Puzzledust's Curse allows you access into Puzzledust's inner sanctum. The most frightening experience ever, as you enter his spine-chilling manor, one of the new thrills this year in Puzzledust's Curse. His unsettling manor, the Cemetery of Chills, The Petrifying Forest, The Killingers home and a larger and more startling than ever Kill Mill are all included in this one power packed attraction!
WHERE: 424 W WALNUT AVE, Enid OK 73701
WHEN: See Facebook
What once was the old Goldspot Dairy has now been transformed into an detailed haunt. Hand built sets around every corner including live actors as well as some of the newest animatronics in the Haunt industry today. Over 6,000 Square Feet of Terror! Portions of proceeds benefit EHS Chorus and Volleyball.

WHERE: 1517 E. 106th Street North in Sperry, Oklahoma at 74070
WHEN: See the schedule here
Brave guests experience Hollywood-caliber scenes, and scares, from the relative safety of their Scareage vehicle in Oklahoma's most unique haunted attraction.
WHERE: 12101 N. I-35 Service Rd in Oklahoma City
WHEN: See Ticket Site
The Sanctuary is a high quality, highly detailed Haunted Attraction with Hollywood Movie Style Set Design and State of the Art Special Effects unparalleled in the state. You'll experience walking through a living, breathing Horror Movie in a four story building.
WHERE: Arrowhead State Park Riding Stables, 3995 Main Park Rd, in Canadian
WHEN: Every Friday and Saturday night 7-10pm in October
The Sasquatch Sighting Hayrides start about dark. You can sit around the campfire and roast marshmallows while you wait for your hayride. The cost is $5 per person campfire and marshmallows included.
WHERE: 51853 W 101st S in Drumright, OK 74030
WHEN: Friday, October 24, Saturday, October 25, and Friday, October 31
If you dare, Scream Country Haunted Forest hosts a massive one mile trail through their Haunted Forest. Other activities include bonfires, marshmallow roasts, pumpkin patch, corn maze, giant movie screen, full concessions, retail shops and a bakery.
Terror on 10th Street Haunted House
WHERE:
10th Street 2005 NW 10, Oklahoma City
WHEN:
Fridays, Saturdays, and Sundays in October from 7pm–11pm
Come face your fears at the annual "Terror on 10th Street Haunted House" where you will find a new nightmare around every corner. You will be taken on a guided tour of the home where you will be invited to participate in the theatrical performance while learning the ghostly history behind the house of horrors. If you are not running in fear, you might be frozen in fright!

WHERE: 11101 SE Lee Blvd in Lawton at 73501
WHEN: See the schedule here
Located in Lawton, the Trail of Fear began as a single attraction in 1998 with a small tent and outdoor maze. For 2013:
The Experiment: A self-guided tour of the excavation sites, trails, and facilities that were once operated by Dr. Michael Kultra and his team of researchers. In 1946 he began an experiment based on his archeological discoveries and heinous surgical practices. Something went wrong…very wrong. Many people have disappeared and never heard from again. Can you make it out alive?
Voodoo Bayou: Nightmares come alive and screams fill the air as you make your way through eerie and gruesome scenes in the bayou. Experience spine-tingling events around the bayou that will leave you terrified. Fiendish denizens of the dark lurk around every turn, watching your every step, and waiting for the right moment. This horrific experience is not one to miss. Can you survive the Voodoo Bayou?
Cirque de Morte: Step right up, folks…to the Greatest Scare on Earth! Our demented Ringmaster invites you to find your way out of the circus maze and try to escape the creatures performing before your very eyes!!
Crispy Family Carnival: Presenting a variety of death-defying stunts from the classic American Sideshow with it's own modern touch and comedic flair. The Crispy Family's lighthearted approach to the macabre has made audiences across the U.S. gasp with horror and squeal with delight.
Pumpkin Junction Kids Attraction OCTOBER 18-19 AND 25-26 ONLY FROM 7PM-9PM The Pumpkin Junction is back. A non-scary event for the entire family.
WHERE: 2701 W 10th St / E1060 Rd, El Reno, OK 73036
For the 2014 Halloween Season The Trail of Terror Team is challenging you to survive our all new attraction The Haunted Barn. The Haunted Barn is guaranteed to be the most exciting, adrenaline pumping, crazy entertainment possible in a barn. Their actors will be dressed up, made up, and desperate to scare the yell out of you. They come out crawling, moaning, groaning, screaming or exploding with chainsaws running. Whatever it takes to creep you out or freak you out they will be doing it.
WHERE: 25166 W 281st St S, Bristow, OK 74010
WHEN: October 3-31, 2014
Come see what horrors await you as you try to make your way out of the haunted corn maze at Wrong Turn Ranch in Bristow. You never know what could be lurking behind each turn, but as you go deeper in the maze the adventure gets wilder. Feel your heart beat quicken as you begin to have the sneaking suspicion someone is following you through this labyrinth as you try to escape.
WHERE: 10101 144th St., Lexington, Oklahoma 73051
WHEN: October 3, 4, 10, 11, 17, 18, 24, 25,31, and Nov. 1, 2014
Escape from the zombies in Slaugterville's Zombie Farm. Make your way through a haunted barn and five acres of haunted forest. Many of your favorite movie characters are here and several zombies too!
Overwhelmed by the list above? Oklahoma Haunted House Reviews selected their scariest from the 2015 season:
1) The Asylum Nowata
2) Nightmare In The Country Woodward
3) Tulsa Hex House
4) The Sanctuary OKC
5) Psycho Path Haunted Attraction Sperry
6) Guthrie Haunts
7) Nightmare Warehouse Enid
8) Thunderbird Trail of Fear Noble
9) Lexington Zombie Farm
10) Demented Dreams Haunted House
11) KATT's Haunted Forest OKC
12) Bricktown OKC Haunted Warehouse
13) Wandering Ghouls OKC
14) DEAD WOODS Trail of Fear Luther
15) Terror on 10th Street Haunted House
16) Newcastle Nightmare
17) The 13th Ward Haunted Attraction
WHERE: 612 E Wrangler Blvd, Seminole, OK 74868
WHEN: Oct. 16, 2014 to Oct. 30, 2014
The walking tour will cover the haunted history of the Grisso Mansion. Tours will last approximately one hour and include a candlelight tour of the mansion and grounds. The tour will culminate with haunted tribal tales told around the campfire. S'mores and hot chocolate will be served during the tribal tales. Spaces are limited and a contribution of $10 per person are required. Donation of a pumpkin is optional at the door. Reservations are available beginning from 7pm – 9:30pm.
WHERE: 220 Elgin, Muskogee, OK
The 2014 Haunted History Trolley Tours will leave Three Rivers Museum at 5:30 p.m. on Friday and Saturday October 17th and 18th and October 24th. Saturday the 25th tour will leave a 5:00 p.m. Tickets are sold in advance only due to limited space.
WHERE: 508 N. Peters, Norman, Oklahoma, 73071
In October, the Moore-Lindsay Historical House Museum is hosting the display, "Hidden Mothers In Victorian Photographs." On loan from the Cleveland County Genealogy Library, the display depicts Victorian photographs that show mothers holding their children while the mothers are hidden by draped blankets or fabric. The effect is to show the child sitting alone, even though the parent holding them is ominously visible. The museum is also hosting tours and trick-or-treating events.
WHERE: 508 N. Peters, Norman, Oklahoma, 73071
WHEN: Saturday, September 24, 2016
The Zombie Escape in Norman is an event where participants are challenged to complete a one-mile course while avoiding live zombies. It is open to youth and adults ages 8 years old and up and will be held at the Griffin Park Disc Golf Course on Saturday, September 24. Check-in begins at 4:30 PM.
Participants register online as individuals and can form teams of up to 5 members per team. The Registration period is Monday, August 8 through Friday, September 16, 2016. When individual participants register, they will be required to choose which "wave" to be a part of. Each wave will consist of no more than 25 participants and will be sent out every 7 minutes beginning at 5:30 PM. The final wave will be sent out at 6:40 PM.
Each participant will begin the course wearing a flag football belt with two flags attached to each belt. Zombies will attempt to "infect" participants by snatching their flags. Those who complete the course with one or both flags still attached will be given a "Survivor" medal. Those who finish the course with both flags missing will be given an "Infected" medal.
Registration fee is $15 per person which includes a t-shirt and medal.