It can be scary to keep informed of all the Halloween events in Oklahoma, but Uncovering Oklahoma is here to make it easy as the whore getting killed off early on in a scary movie. This guide features all of the thrilling Halloween attractions throughout the entire state of Oklahoma. Be sure to check back often for updates.
This is the most comprehensive Halloween guide around! If there is something missing or new, contact me!
Be warned though: these places will scare you and are generally not for small children, although some of the events do have a kid friendly side attraction. Check out the Mazes and Pumpkin Patches section for family fun. Listings in our 2013 Halloween guide are sorted in alphabetical order, with shows sorted by start date, and cover the entire state of Oklahoma. For more information on an attraction, click on the title to be linked to their official web site.
Like Us on Facebook for deals and updates!
WHERE: 725 NW 16th St. in Oklahoma City
WHEN: October 16 – November 2
Get weird and rock all night with Richard O'Brien's THE ROCKY HORROR SHOW. Whether it's your first time or this musical is part of your soul, join us for 'a night you will remember for a very —long—time!' Be sure to read my Performing Arts Q&A session with Matthew Alvin Brown, the director of The Rocky Horror Show.
WHERE: 51853 W. 101st Street S. in Drumright, Oklahoma 74030
WHEN: Oct. 18-19, 25-26
Evil Dead: The Musical is the only musical in the world with a splatter zone. The hilarious live stage show takes all the elements of the cult classic horror films, Evil Dead 1, Evil Dead 2, and Army of Darkness then combines them to make one of the craziest theatrical experiences of all time.
Five college students go to an abandoned cabin in the woods, and accidentally unleash an evil force that turns them all into demons. It's all up to Ash (a housewares employee, turned demon killing hero), and his trusty chainsaw to save the day. Blood flies. Limbs are dismembered. Demons are telling bad jokes and all to music.
WHERE: 230 East First Street, Downtown Tulsa
WHEN: Saturday, Oct. 26, 2013
he 5th Annual Spider Ball presented by Bacardi, Saturday, October 26th. 2013, is a Halloween dance party with the best of the local DJ's in three distinct clubs housed in the same building (Enso Bar, Electric Circus and IDL Ballroom). This unique 1,000 capacity facility gives the attendees three different entertainment atmospheres to enjoy.
Admission is $10.00 cash/$15.00 credit card per person in costume day of event. *subject to sell out during advance ticket sales!
$15.00 per person without costume. For more details visit tulsaspiderball.com
WHERE: Downtown Oklahoma City
WHEN: Saturday, October 26, 2013
Gazette's Halloween Parade lurches onto the scene once again with its macabre celebration of artistry and creativity in Midtown and Downtown Oklahoma City on October 26, 2013. Now in its sixth year, expect even more entries, revelry, and fun!
Gazette's Halloween Parade began as the Gazette's Ghouls Gone Wild Parade in 2007 with almost 20,000 spectators and 64 entries. Last year, the parade boasted attendance of more than 60,000 with almost 100 entries and more than 2,000 participants and 200+ volunteers.
Tired of the same old Halloween Parties? Come join Oklahoma River Cruises on the river for the most fun you've had on the water! Cocktails, dancing, appetizers, and spooky tunes on board. Cash bar available on board. Departs at 8 p.m. from Regatta Landing 701 S. Lincoln each Friday and Saturday in October. Space is limited and reservations are required. Boarding begins 7:45 p.m. Only $35 per person.
WHERE: Enid
The Jantz Family have opened their hearts and land for the enjoyment of all ages with their over 300,000 square foot living field maze. Six colored flags, an observation bridge and four exits are there to help you. For extra fun, navigate the mazes on Saturday night with a flashlight!Feel a little overwhelmed by the size of that maze? They have plenty of things to do such as a petting zoo, dino dig, hay bale maze for the youngsters, a pumpkin patch, and a concession stand. Try to find your way through a 300,000 sq. ft. living Field Maze. For high adventure, try the six acre, "Jungle Maze." No flags or maps to help you through this one! For the brave of heart, an extra fee will allow you to zipline across the largest field of maze.
WHERE: 39232 231st Street South in Porter
WHEN: October Weekends: Saturdays 10 a.m. – 5 p.m. Sundays 1 p.m. – 4 p.m. Thur & Fri of Fall Break 10 a.m. to 5 p.m.
Everyone boards the wagon for a hayride out to the pumpkin patch, where you and yours can take as long as you want to find the perfect pumpkins! Livesay Orchards has pumpkins of all sizes, shapes and colors. They also carry a great assortment of fall decorations and a Pumpkin Playland, with all sorts of things to see and do.
WHERE:
14400 South Western in Oklahoma City
WHEN:
See Web Site
Visiting the Orr Family Farm in the fall is like no other experience. The sweet smell of cut hay, the brilliant orange of all the pumpkins in our pumpkin patch and the ever-sweet smell of kettle corn flowing through the Farm makes fall a very special time. Experience Orr's sprawling country atmosphere as you begin your adventure through this year's corn maze. You choose the way as you discover games and clues. Maize-o-Vision secret decoders help you navigate the multi-acre puzzle.
WHERE: 614 Reding Road in Chickasha
WHEN: See Web Site
Fun for the whole family from Sept. 28 to Nov. 4, 2012 with a 35 acre walk through maze, 3 Regualr mazes, 2 Haunted Mazes, hay rides, cowtrain rides, corn and pumpkin cannons, live music, bon fires, dusk races, petting farm, and a play area with a large sandpile.
WHERE: 1002 Old 66 Rd in Hydro
WHEN: See Web Site
P Bar Farms offers plenty of Fall Fun for the entire family, including a hand cut Corn Maze, Pumpkin Patch, Train Rides, Farm Animals, Playground, Laser Tag, Karaoke and a new addition to the farm, Miniature Golf! During October P Bar Farms even get into the Halloween fun with a haunted Corn Maze and Laser Tag Barn after dark.
WHERE: 98120 N. 3745 Road in Mason
WHEN: See Web Site
This year Rustic Acres will have a new game for the maze called Maze Text. Maze Text is an interactive cornmaze texting game. This game allows you to receive hints through text messages and website clues. Lots of fun questions ranging from Fun Facts, Bible Trivia, Boy/Scouts and more to be fun and educational as well.
WHERE: 1580 NW Highway 37 Newcastle, OK and 4335 West Highway 9 West Norman, OK
Visit TB Farms for their tractor drawn hayrides, petting zoo, massive hay maze, corn maze, tricycle race track, duck pond, pony rides, and pick your own pumpkin patch.
WHERE: 32506 E. 61st St. in Broken Arrow
WHEN: See Web Site
Take part in the haunted maze, paintball range, campfires, cow train, and more at Tulsa MAiZE.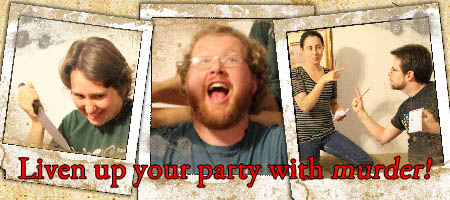 WHERE: 6539 E. 71st Street in Tulsa
WHEN: See Calendar
The 13th Ward Haunted Attraction will be closed for the 2013 season due to a family illness.
With over 40,000 square feet of terrifying entertainment, The 13th Ward submerges you into a chaotic dimension, where savage patients run uncontrolled, and illusions are reality. It is here, under the guise of a rehabilitation facility, that Dr. Thaddeus Munck once subjected some of the world's most disturbed criminals to illegal, mind-altering experiments and horrendous tortures. Now, these monsters of Dr. Munck's creation wander in anguish, seeking their revenge for the torments they will forever suffer.
Make no mistake; The 13th Ward is not for the faint of heart. Enter Dr. Munck's domain, cross the threshold into pandemonium, and lose your psyche to its own hallucinations. Surrounded by insanity, at The 13th Ward our goal is to make your blood scream, to leave your soul questioning existence and to bring nightmares to life.
WHERE: 304 W. Cherokee in Nowata,
WHEN: Fridays and Saturdays from 7pm to 11pm and Sundays from 6pm to 10pm in October and open on Oct. 31 from 6pm to 12pm
The Asylum is a place that the simple peace-loving townsfolk of Nowata, Oklahoma don't particularly like to discuss at all. Especially with the likes of strangers. People come and go through this small town, and sometimes they'll hear just a faint whisper about, "that wretched place" and they begin to dig in affairs that are not of their own. It is these affairs that envelope the minds of the individuals, warily holding on to their very sanity. Themed after an early 1940′s Sanitarium, The Asylum is based on the dark history of the first sanitariums before there were rules and restrictions to control what happened inside.
WHERE:
Chevy Bricktown Event Center: 429 E. California, Oklahoma City, OK 73104
WHEN:
Opens October 11, 2013
The Bricktown Haunted Warehouse brings to OKC a whole new terrifying experience – PITCH BLACK. PITCH BLACK consists of 20k square feet of pure terror with blood-curdling surprises around every corner.
WHERE: Cimarron Rd in Mustang
WHEN: Oct. 19-20, 26-27, 31 at 6:30pm
Haunted Trail on 20 acres just outside of Mustang. This is meant to be scary so keep that in mind when bringing children. They will allow one flashlight per group of 6-10 on the walk.
WHERE: 20100 N.E. 178th Street in Luther
WHEN: Oct. 11-12, 18-19, 25-26 for 2013
Prepare to scream as you walk almost ¾ mile on a spine-tingling winding trail through the haunted woods. The 110 acre woods are transformed into the scariest Haunted Trail in the area. If you are looking for a new and out of the ordinary way to get your heart pumping and adrenaline rushing this October, Dead Woods Haunted Forest is the place for you. The trail will not open until there is total darkness.
WHERE: In Frontier City Theme Park at 11501 N I-35 Service Road in Oklahoma City, OK 73102
WHEN: Fridays, Saturdays, and Sundays October 4 to November 2
Experience Thrills and Chills as Frontier City lets all the ghouls out for their annual FrightFest celebration. For the brave at heart, stop by the House of Screams. This inferno themed haunted house is guaranteed to scare you from one end to another! Plus, you get to check out the various rides Frontier City has to offer.
WHERE: 1210 South Chouteau Ave, Chouteau, OK 74337
WHEN: October 25, 26, 31 November 1, 2 in 213
Frozen Morgue presents two attractions: Urban Legends Haunted Hayride and Twisted Fairy Tales.
WHERE: 4524 Riverside Circle, Guthrie, OK 73044
Guthrie residents remember it as the old Harvey's Steakhouse building Highway 77, 2 blocks north of Cimarron Bridge, but now it's a prime destination for Halloween holiday horror. The haunted house opens each night at 7 p.m. to Midnight on every Friday, Saturday, and Halloween night in October. Admission is $12
WHERE: 3400 Fern Mountain Road in Mukogee, Oklahoma 74401
WHEN: Open October 4, 5, 11, 12, 18, 19, 25, 26, 31st and November 1, 2 in 2013, 6:00p.m. to 10:00p.m.
You'll find thrills for the entire family inside and outside the Haunted Castle Festival. From the sinister, fog-shrouded forest to the carnival atmosphere of Halloween Land you'll find performances and activities for all ages. Start in the Halloween Village for hot and cold drinks, food, bobbing for apples, fortune tellers, ghost stories, and more before heading off into one of the attractions.
Haunted Stables
WHERE: Lake Eufaula State Park in Checotah
WHEN: 2013???? Dark to 10pm
Take a walk through the mysterious stables at Lake Eufaula State Park's Haunted Stables. Have a spooky good time as you make your way through the dark stables, where you never know what's around the corner. Nearby, a scary trail beckons visitors to enter the unknown. Younger kids will enjoy the scare-free Kiddie Zone or hay maze. Haunted Stables has something for the whole family.
WHERE: 614 Reding Road in Chickasha, OK 73018
WHEN: Friday and Saturday evenings in October from dusk until 10PM
The Harvest of Fear is a 25 minute walk through maize where at each step you will wonder if you will get out alive. Admission is $10.00 per person.
WHERE: 8314 E. 71st St. in Tulsa, OK 74133
WHEN: See site
The Hex House is Tulsa's only extreme haunted attraction (not intended for children). The Hex House is an intense multi-element, walk-through haunted attraction themed around a dark chapter in Tulsa's haunted past. You won't find any Freddy's, Jason's, or movie scenes in The Hex House (nor will you find any cheesy animatronics or goofy props). What you will find is that you've been fully submerged in an altered reality that is much darker and less predictable than anything you've seen in the movies. As you make your way through the flickering hallways and eerie rooms of The Hex House (assuming you don't sprint out prematurely), you'll descend from mere creepiness into a full-on, intense nightmare that you won't soon forget. The goal of The Hex House isn't to entertain you, it's to completely remove you from your comfort zone and make sure you know what sheer terror feels like…. and if we don't get you this time… rest assured that next time, we will…
WHERE: Bartlesville Round-Up Club
WHEN: October 4, 5, 11, 12, 18, 19, 25, 26, 31st,
November 1st & 2nd
Killing Frost Productions is based in Bartlesville, Oklahoma. For the 2013 Halloween season they are doing "Cutting Ties." Be prepared to walk through "40″ acres of secluded field and forest where the most frightening creatures play. This haunted trail takes about "1/2 hour" to walk through if you're heart and will can stand it. "Cutting Ties" will be an evening you will never forget. Your fear will be delivered starting October 5th. Come join us at the Bartlesville Round-Up Club (Rodeo Grounds) located West of Bartlesville on Highway 60. Head "south" past main buildings and park on either side "before" cement bridge. Walk south towards ticket booth and back gate.
WHERE:
900 N. Portland, Newcastle, Oklahoma 73065
WHEN:
Oct Weekends from 8pm to 12pm
You may have seen the zombie containment unit around the Oklahoma City metro area and thought to yourself, where did they contain those zombies? Look no further the Newcastle Nightmare!
WHERE: 25803 North County Road 3250 in Wynnewood
WHEN: Oct 31-Nov 3, 2013 from 7pm to 10pm
After 3 years of sleepless nights, the nightmare returns to exit 64 at the G.W. Exotic Animal Park. One of the funnest haunted zoos in the country the park will be set for visitors to tour the haunted park.
All proceeds from the haunted park will go to help care for unwanted exotic animals housed at the park located in Wynnewood Oklahoma. Don't miss the fun.
WHERE: 38368 S County Rd 195 in Woodward 73801
WHEN: See Site
Woodward's Haunted Farm with several attractions including the Haunted Barn, Grim Woods, Kill Mill, and more.
WHERE: 424 W WALNUT AVE, Enid OK 73701
WHEN: See Site
Enid's Ultimate Haunted House! Over 6,000 Square Feet of Terror! Portions of proceeds benefit EHS Chorus and Volleyball.

WHERE: 1517 E. 106th Street North in Sperry, Oklahoma at 74070
WHEN: See the schedule here
Brave guests experience Hollywood-caliber scenes, and scares, from the relative safety of their Scareage vehicle in Oklahoma's most unique haunted attraction.
WHERE: 530 S. Broadway Ave in Oklahoma City
WHEN: See Site
The Sanctuary is a high quality, highly detailed Haunted Attraction with Hollywood Movie Style Set Design and State of the Art Special Effects unparalleled in the state. You'll experience walking through a living, breathing Horror Movie in a four story building.
WHERE: Arrowhead State Park Riding Stables, 3995 Main Park Rd, in Canadian
WHEN: Every Friday and Saturday night 7-10pm in October
The Sasquatch Sighting Hayrides start about dark. You can sit around the campfire and roast marshmallows while you wait for your hayride. The cost is $5 per person campfire and marshmallows included.
WHERE: 51853 W 101st S in Drumright, OK 74030
WHEN: See Site
If you dare, Scream Country Haunted Forest hosts a massive one mile trail through their Haunted Forest. Other activities include bonfires, marshmallow roasts, pumpkin patch, corn maze, giant movie screen, full concessions, retail shops and a bakery.
Terror on 10th Street Haunted House
WHERE:
10th Street 2005 NW 10, Oklahoma City
WHEN:
Fridays, Saturdays, and Sundays in October from 7pm–11pm
Come face your fears at the 7th annual "Terror on 10th Street Haunted House" where you will find a new nightmare around every corner. You will be taken on a guided tour of the home where you will be invited to participate in the theatrical performance while learning the ghostly history behind the house of horrors. If you are not running in fear, you might be frozen in fright!

WHERE: 11101 SE Lee Blvd in Lawton at 73501
WHEN: See the schedule here
Located in Lawton, the Trail of Fear began as a single attraction in 1998 with a small tent and outdoor maze. For 2013:
The Experiment: A self guided tour of the excavation sites, trails, and facilities that were once operated by Dr. Michael Kultra and his team of researchers. In 1946 he began an experiment based on his archeological discoveries and heinous surgical practices. Something went wrong…very wrong. Many people have disappeared and never heard from again. Can you make it out alive?
Voodoo Bayou: Nightmares come alive and screams fill the air as you make your way through eerie and gruesome scenes in the bayou. Experience spine tingling events around the bayou that will leave you terrified. Fiendish denizens of the dark lurk around every turn, watching your every step, and waiting for the right moment. This horrific experience is not one to miss. Can you survive the Voodoo Bayou?
Cirque de Morte: Step right up, folks…to the Greatest Scare on Earth! Our demented Ringmaster invites you to find your way out of the circus maze and try to escape the creatures performing before your very eyes!!
Crispy Family Carnival: Presenting a variety of death defying stunts from the classic American Sideshow with it's own modern touch and comedic flair. The Crispy Family's lighthearted approach to the macabre has made audiences across the U.S. gasp with horror and squeal with delight.
Pumpkin Junction Kids Attraction OCTOBER 18-19 AND 25-26 ONLY FROM 7PM-9PM The Pumpkin Junction is back- A non scary event for the entire family.
WHERE: 2701 W 10th St / E1060 Rd, El Reno, OK 73036
This attractions appears to be gone for 2013. Can anyone confirm?
WHERE: In Ada
This attractions appears to be gone for 2013. Can anyone confirm?
Ultimate Terrors will not be open for the 2013 Season
WHERE: In Crossroads Mall, 7000 Crossroads Boulevard, Suite 3000 Oklahoma City, OK 73149
WHEN: See Web Site
Ultimate Terrors features many attractions, including Skull Manor, Code Blue, a 3-D Chaos Maze, and even a chance for revenge on the monsters in the black light paintball gallery. Watch our video above on the place we filmed from 2009 (note that this year they are at Crossroads Mall).

WHERE: Moore's Flying M Ranch: 20707 E 540 Rd in Inola
WHEN: October 19, 2013
There has been an outbreak of a virus that has unleashed itself upon mankind! This virus kills its host and reanimates them in the most horrific of ways. This plague has assaulted mankind and finally ravaged its way into Tulsa, Oklahoma. Your only refuge is a zombie free safe zone called Moore's Flying M Ranch located in the wooded hills of Inola, Oklahoma. Your only task is to stay alive as the zombie hoards invade the ranch looking for fresh meat.
Run, or walk carefully through the 5K course located a few miles outside of zombie filled Tulsa, Oklahoma. Use your amazing wit and speed to stay alive through to the end of the terrifying course. But if you don't, it doesn't really matter. Everyone can join the party at the end where there will be a reunion of both the dead and undead.
WHERE: 10101 144th St., Lexington, Oklahoma 73051
WHEN: October 11, 12, 18, 19, 25, 26, 31 and Nov. 1
Escape from the zombies in Slaugterville's Zombie Farm. Make your way through a haunted barn and 5 acres of haunted forest. Many of your favorite movie characters are here and several zombies too!
---
Like Uncovering Oklahoma on Facebook for deals and updates!